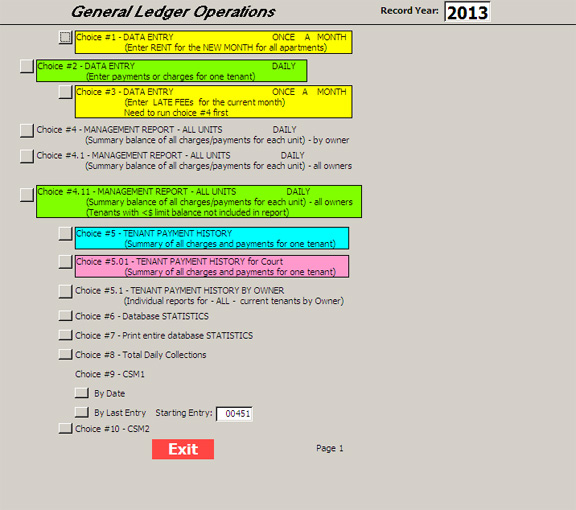 This is the start of the g/l module: it contains both 2 data inputs along with a number of report formatsand statistics.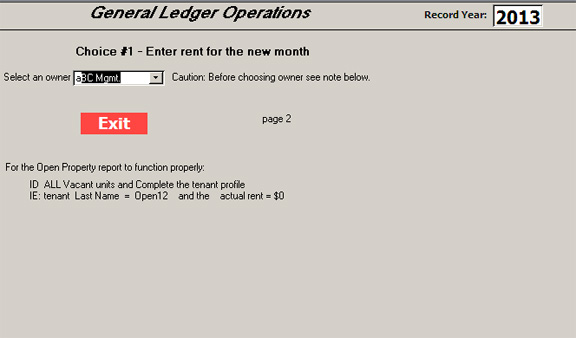 All Rent can be entered with 1 click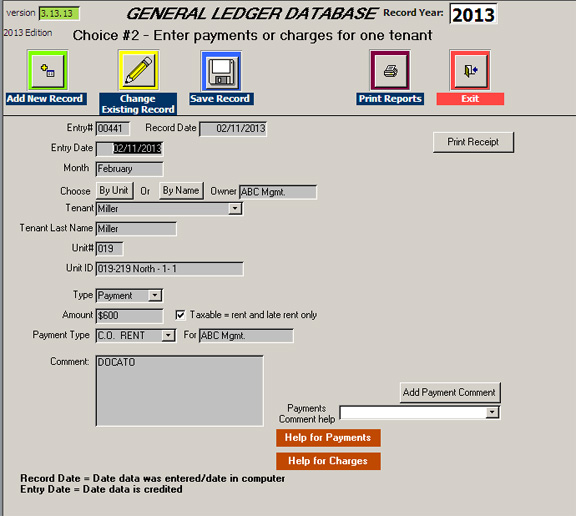 Payments can be entered by unit or by name. Charges other than rent (i.e. WAter) can be entered by tenant name or unit.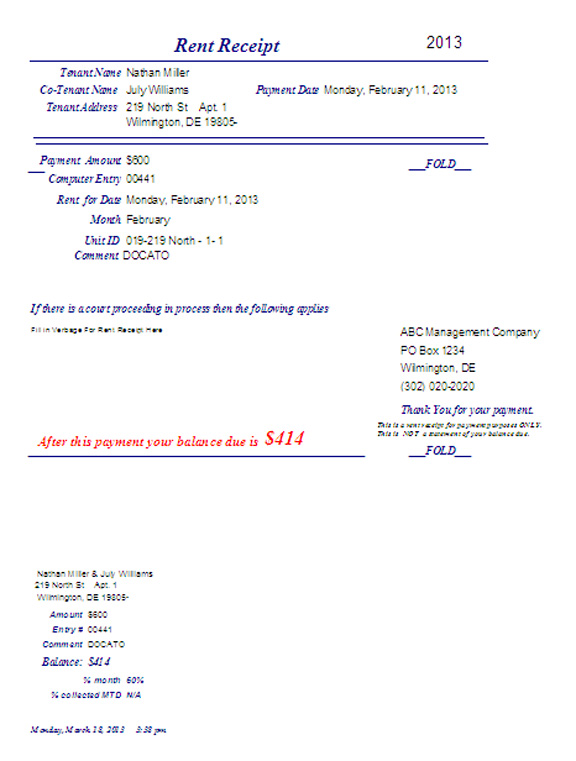 The rent payment receipt is 2 part
top is for the tenant and the bottom can be attached to the check or payment.
Reminders are set in the program upon startup. The late fee is tenant variable.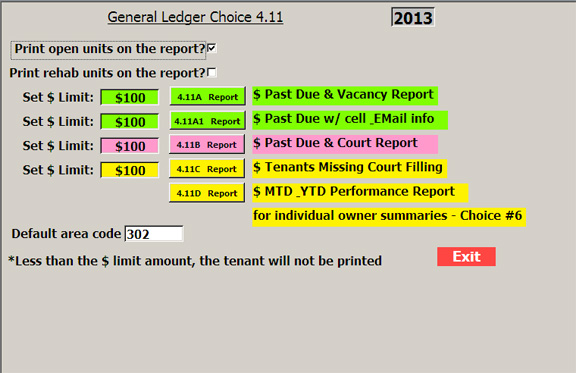 The summary reports are set for a variable amount ( ie$100 owed its not shown).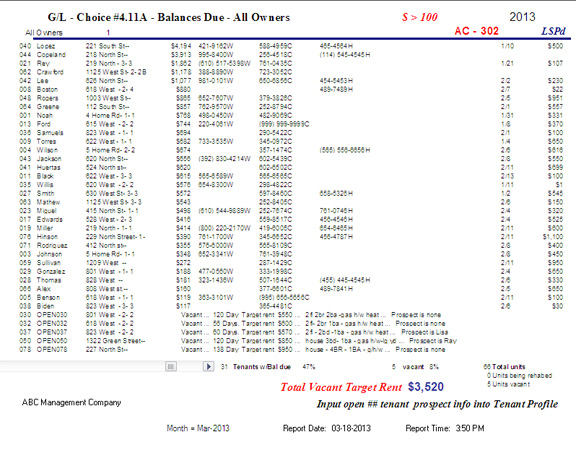 The summary reports show the lower limit and contact info but also the date and last amount paid $L$Pd. the reports also show vacancies, unit info, and lost rent based on target rents for vacant units.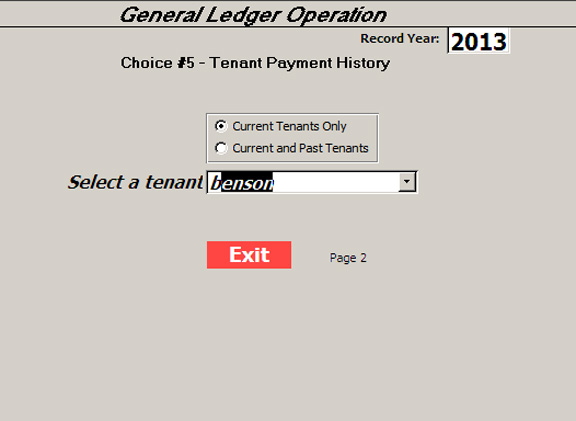 Tenant payments show date, cash/check, and the balance can be itemized for both current and past tenants.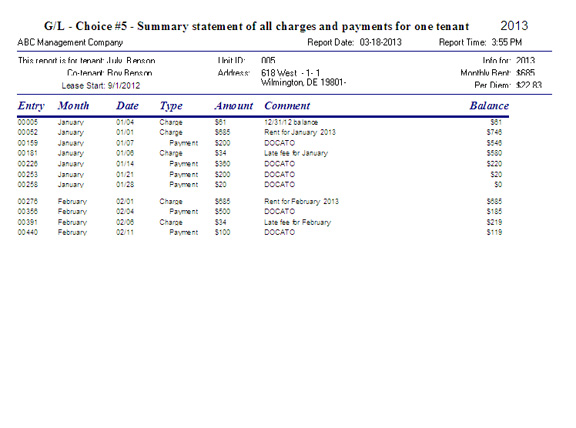 The tenant payment record is complete with unit and report and date info.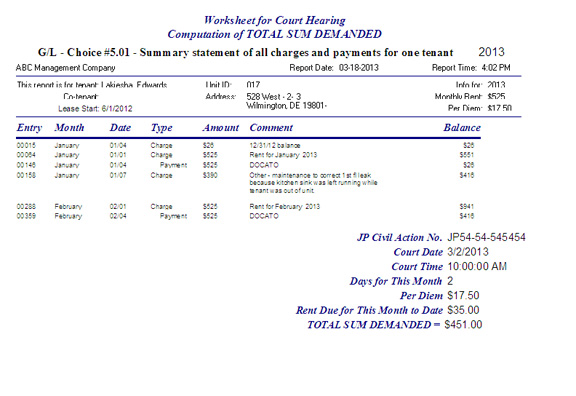 Court paperwork is based on per diem info which is pre-calculated for the court date.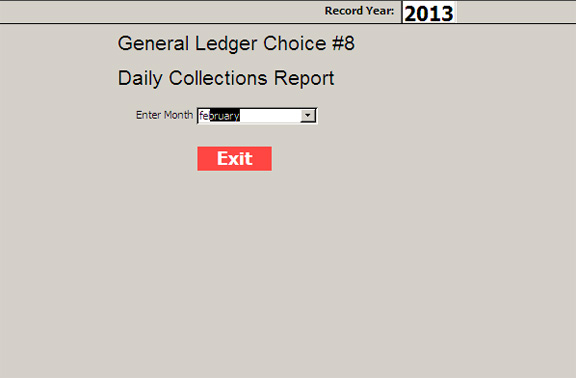 Collections and reconciling bank statements can be done by matching daily collections with deposit slips.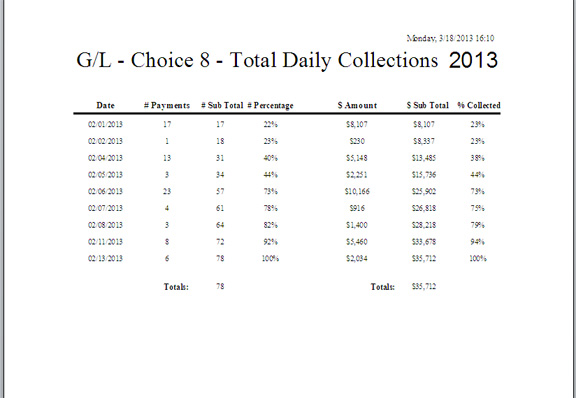 Collections by day are recorded be month. Percent collected shows outstanding amounts due.
Everything Financial

General ledger operations are very simple and easy. As an example, to input late rent due takes only a single click.

Input all monthly rents received

Input all late rents due and late fees

Show reports on any single unit, all units, or broken down by unit owner (especially convenient if you manage properties for other owners)

Show payment history on any selected tenant
Macro accounting for ALL units - Choice 4.11

Micro level 1 tenant's payment history - Choice 5.0

the vacancy rate

comparison of locations.

Balances of Balances Due & Vacancy Info

Vacancy & Collections



© 2013 ApartmentManagerXP